2022- The Year of Elevation
Elevate Definition = raise or lift (something) up to a higher position.

How was the year 2022? Definitely better than its past two predecessors. 2020 & 2021 was all turmoil due to the awful pandemic which changed everything in its course; from social gatherings to businesses. Normalcy returned back late 2021 which paved a way for mankind to re-establish their lifestyles in 2022. A chance to improve how the world was previously operating. 


AMT took this opportunity with open hands. It aimed to actually reach the stars in 2022, its third year of creation. This year the company moved from the angle of stability to growth. Bringing in copious changes concentrating to their work culture and employees, which resulted in higher customer satisfaction elevating the company from where it was a year ago in the market.


The company started off the year with deserving promotions. The employees who had an outstanding performance in the year 2021 were rewarded for their hard work and dedication.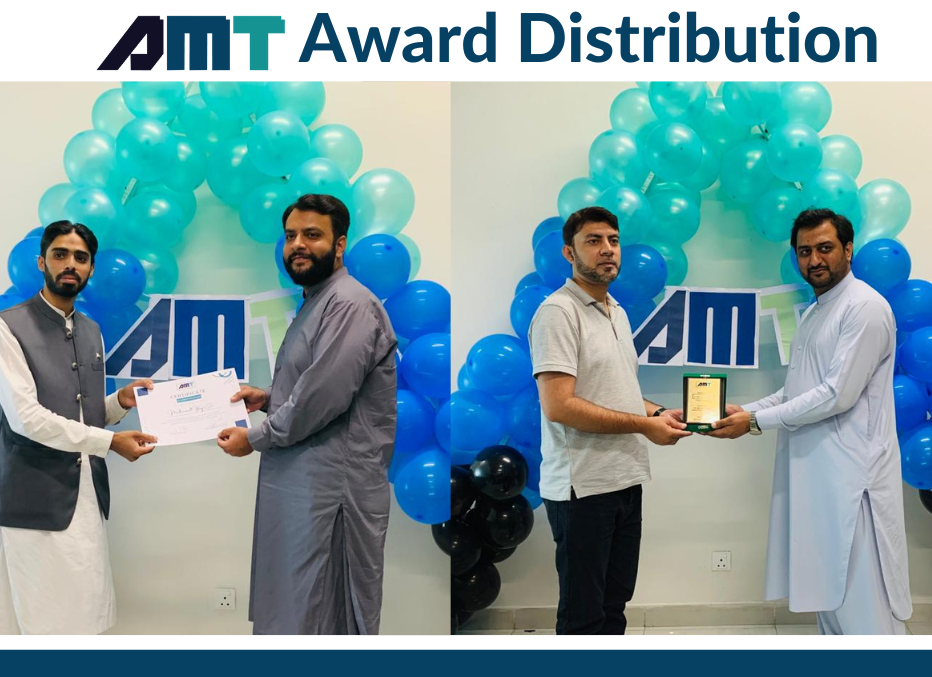 It also commenced its official YouTube chanel and Tiktok account, with which AMT in 2022 is active on all social media platforms available. We call the umbrella of our social accounts, AMTVerse. Super cool, right! 


Be updated with all the hot information of the company by our socials. You cannot be socially active if you donot find AMT there.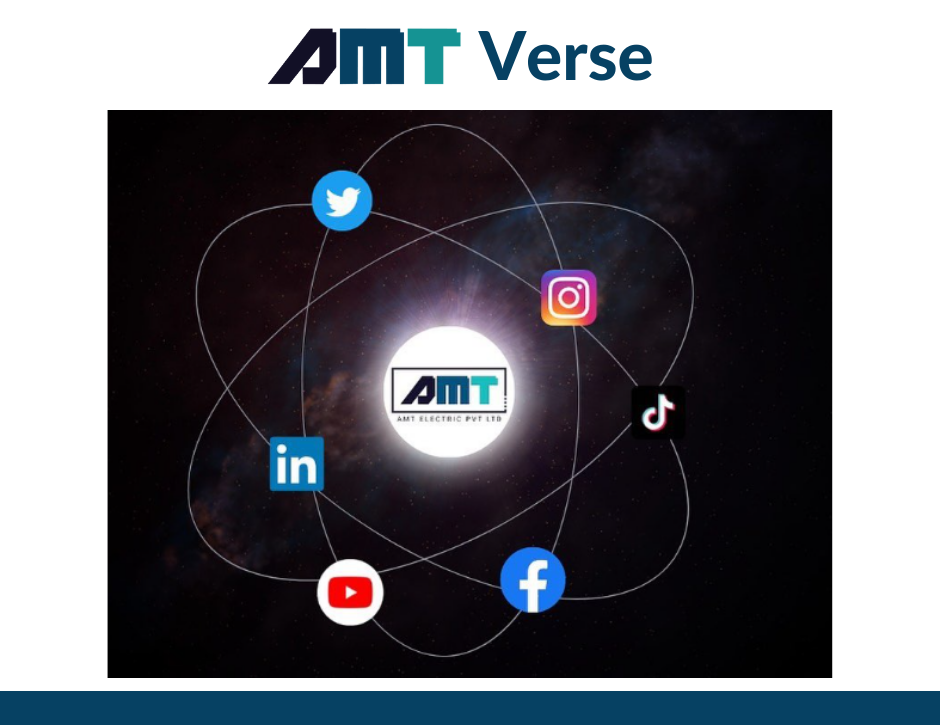 AMT had a few highly capable personalities join the team this year. Most noticeable was for the position of Regional Sales Manager South, Sales Engineer North, HR&OD Manager.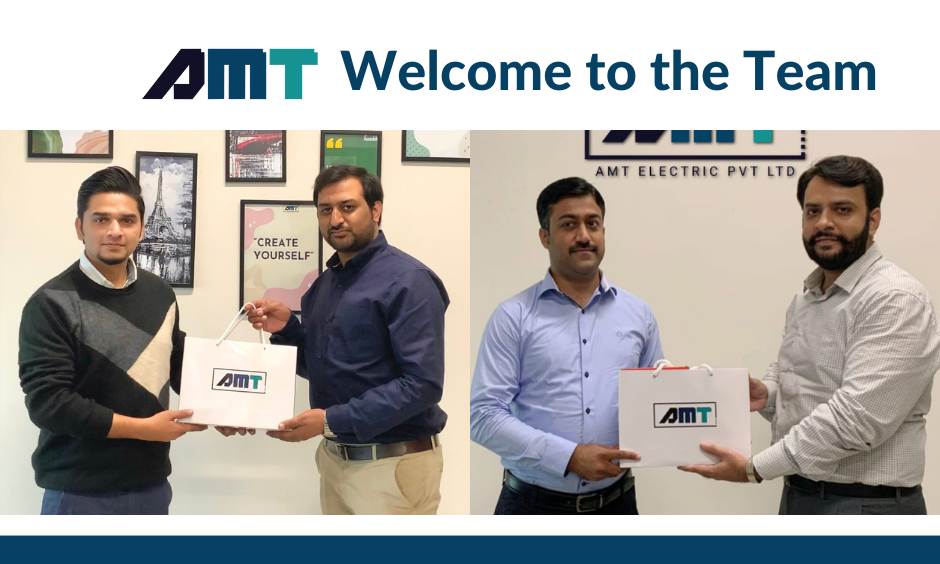 Throughout 2022 AMT organised various sessions for the growth and increased productivity of its employees. The workshops ranged from topics on Organizational Growth And Employee Performance, Effective Marketing Strategies to Bussiness Communication And Writing. The speakers were experienced and well versed in their field. These workshops proved beneficial to our employees on their professional growth resulting in higher working results. The company has aimed to carry more employee growth workshop in the upcoming year.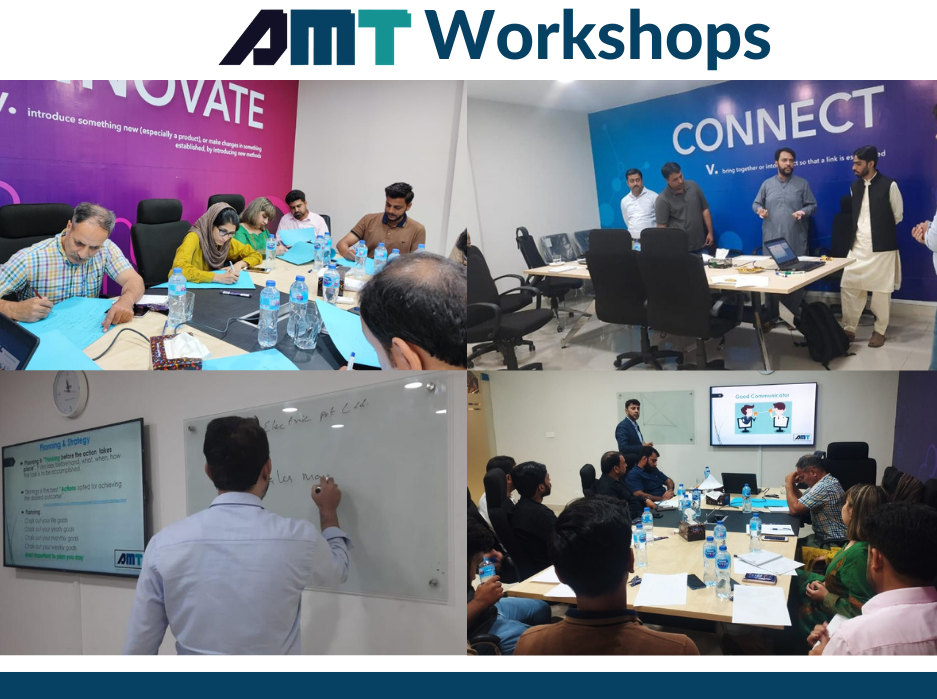 AMT firmly believes that employees are the foundation of any workplace. It is said "The happier the employee, the stronger the company is". After a relaxing weekend at home, returning to work can be challenging. We play team-building games on Mondays to reinvigorate our team so that the entire week goes by productively. These activities not only makes the office more lively, but it also fosters teamwork. Playing games is an excellent approach to build interpersonal relationships, especially given the ethnic diversity present at AMT. Additionally, games strengthen your co-workers' strategic thinking and problem-solving abilities, boosting efficiency.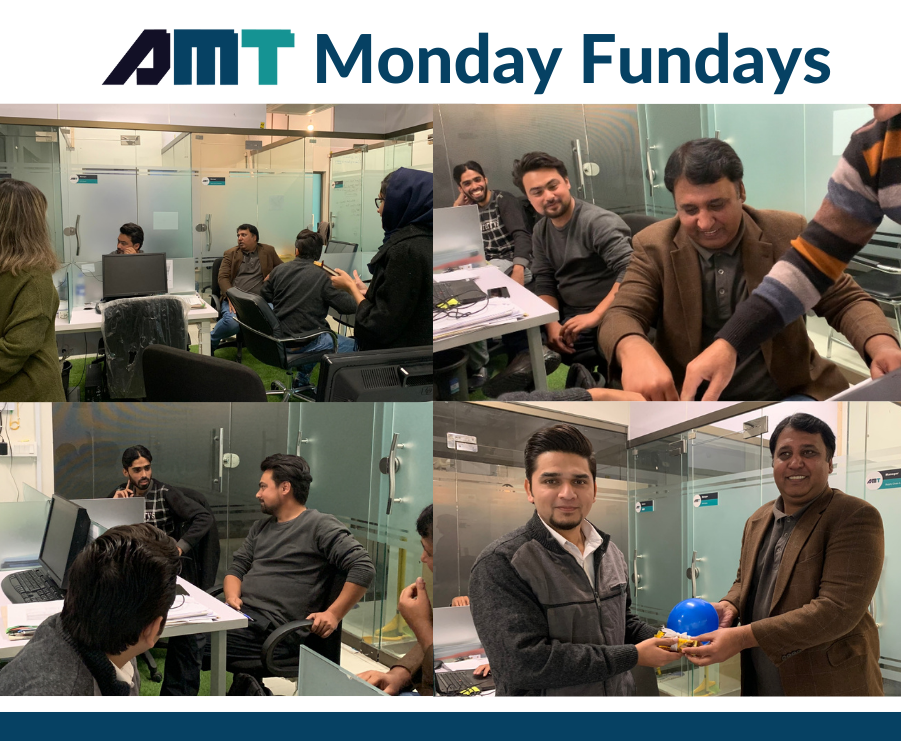 We here at AMT are a family. We have always kept employee wellness as our top priority and will keep doing our best to maintain that. Workshops grow an individual's skills, mental training games expand the individual's mind. Both hand in hand provide overall growth to the individual keeping a balance of fun in it. This has been and will staunchly remain a basic foundation for AMT, taking care for those who commit their lives working for the vision the company believes in.

The company culture AMT believes in is working to our full potential and adding an element of enjoyment to each day keeping every day exciting rather than dry. This is achieved by small celebrations every now and then. Sometimes its Independence day, sometimes it's a birthday party. Surprising things keep going on at our head office. You will always find a balloon lurking about.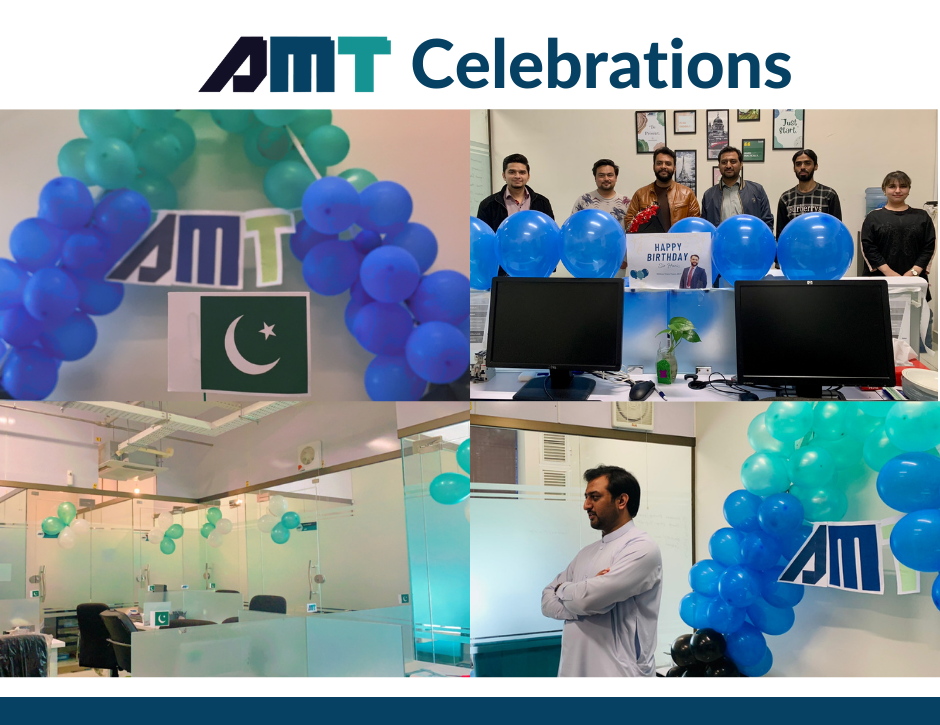 Towards the end of the year, AMT was honored to be among the top recruiters of Pakistan at NUST Career Connect (2022-23), held on Wednesday, 21st of December 2022.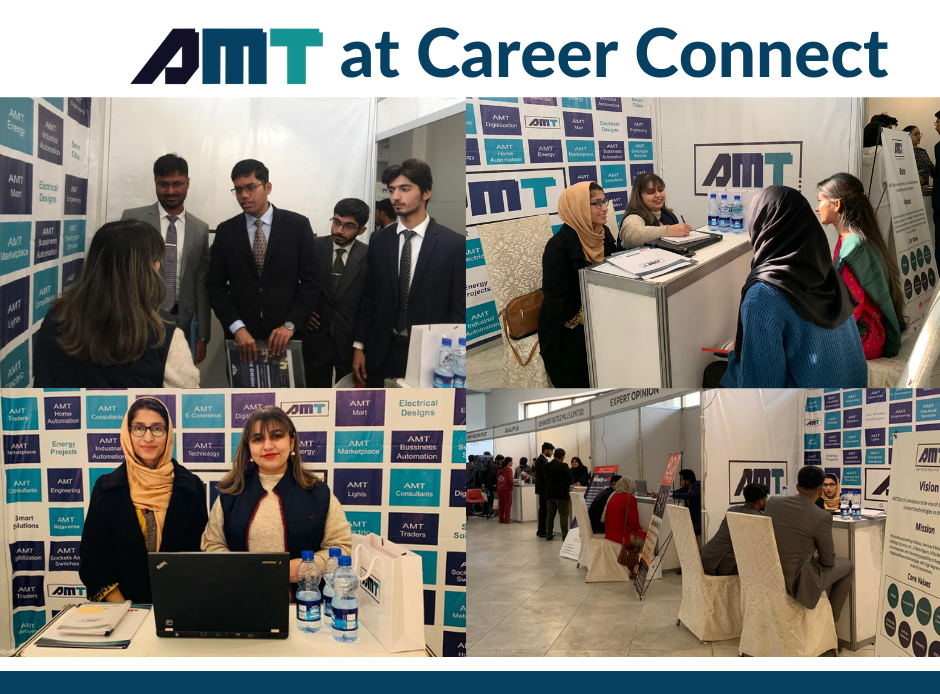 Our employees interacted with extremely talented young individuals and guided them on how they will transition from a student to a professional. For recent graduates, AMT has always been there. Majority of the companies rely heavily on experience when making hiring decisions, but they often overlook the need to offer recent graduates a safe learning environment in which they develop professionally and gain experience as they have to start somewhere. Especially for them, AMT has its MTO program. A work period for fresh graduates to learn how a corporate company works.


We understand that you will make mistakes when doing tasks for the first time, but don't worry, our highly supportive staff will teach and help you throughout the way.


Hats off to the Management team and NUST Placement Office to bring together such many companies under one roof for their students.
AMT hosted its annual dinner at the scenic Dera Dari located in the footsteps of Margallas. There couldn't have been a better location to gather all the employees to celebrate the year, interact and enjoy as a family. 
The company had its highest-ever sales achieved in the month of November 2022 through the efforts of the whole team. That was the fruit of the elevation plan on which's trajectory the company was directed. The effects of all the changes brought in over the year. To give back to our customers for all their love and support, AMT introduced for the first time in its history a Lucky draw paired with an End of Year Sale. A gesture of thank you from us to you. The winner of the lucky draw will get an iPhone 13 Pro Max.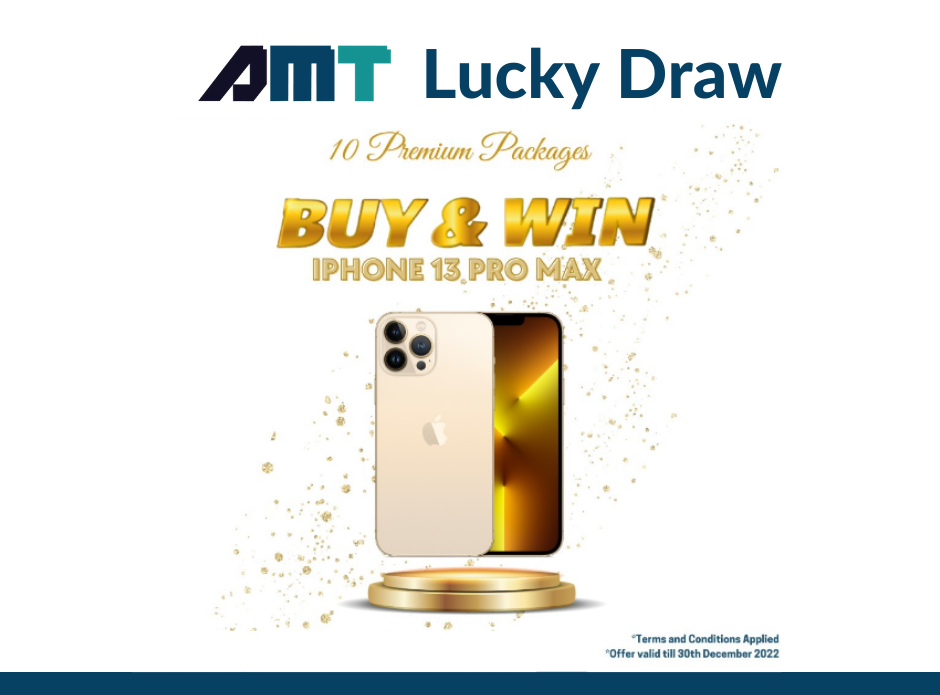 With that, we close one of the most exciting years yet. 2022 was filled with love, success, happiness but a little sadness. Some people left, many joined. A lot of changes were brought in a few of which were easier to adjust to than other. The excitement of being alive is the ups and downs. Overall the direction the chart goes dictates how the period was and by the grace of God Almighty 2022 went by as a wonderful year. 


Meet you after 365 days. We'll be closing 2023 together too, till then toodle-oo!- oh wait, have an amazing new year filled with health, wealth success, and family. Now we can part properly.

Farewell readers.