SACE FORMULA
Formula for you. Get quality easily.
A subdivision of ABB's MCCB is the SACE FORMULA series. The SACE FORMULA IEC range consists of four frames (A0, A1, A2, and A3) which reach up to 630A, while the SACE FORMULA UL range consists of two frames, A1 and A2, which reach up to 100A and 250A respectively.
SACE FORMULA DSA circuit breakers are commonly used in commercial and residential applications.
In order to help with the installation of products in switchboard, ABB developed a dedicated distribution system. Bus-bars are dimensioned to carry up to 800A. A selection of different frames is available according to the number of breakers installed on the load side.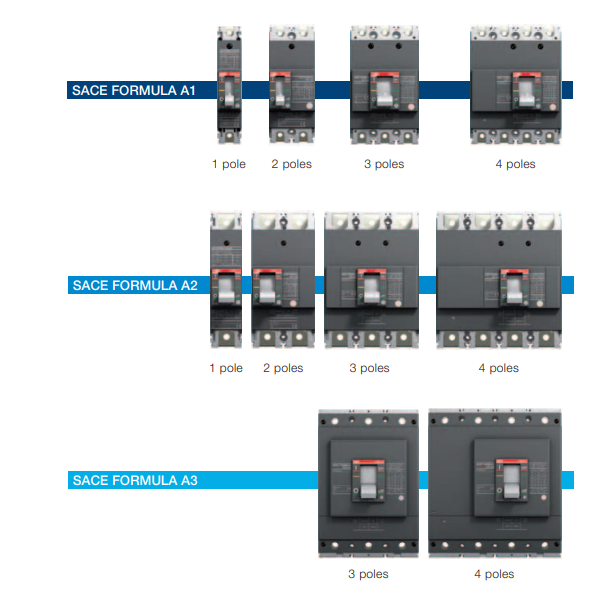 Compact and competitive
Extremely compact dimensions and coordinated depths mean standardized dimensions and savings in distribution boards design
Easy to order and to use
1,2,3, and 4 poles IEC versions up to 630A, no derating up to 50°C and common range of click-in accessories
Ready to use
Fixed thresholds on trip units, pre-cabled version of accessories and FORMULA Link to save time when installing FORMULA IEC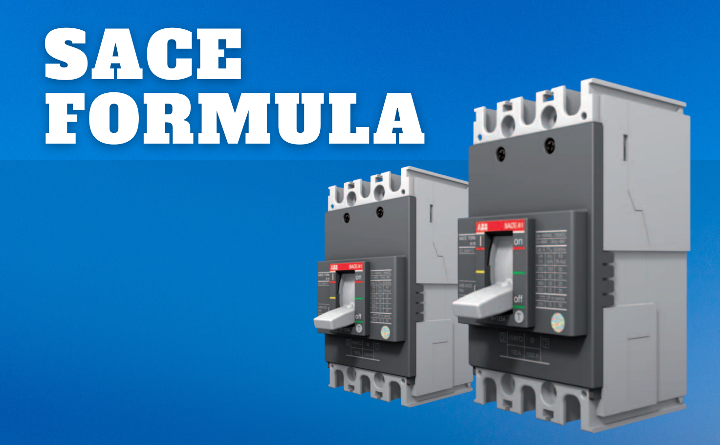 All the moulded-case circuit-breakers in the SACE FORMULA family are constructed in accordance with the following construction characteristics:
 Double insulation

 Positive operation

 Isolation behaviobehavior

 Electromagnetic compatibility

Tropicalization

Power supply from the top towards the bottom or vice versa

Versatility of the installation

It is possible to mount the circuit breaker either in the horizontal, vertical, or lying down position without undergoing any derating of the rated characteristics
All types of ABB's MCCBs are available at AMT Electric.